CONFERENCE LOCATION
The conference will be held at an astounding palace: The Negresco Hotel, in Nice (France).
Legendary Palace overlooking the Promenade des Anglais in Nice,Le Negresco undeniably evokes "the art of French living." Facing the Mediterranean Sea, it is located 5 km from the international airport of Nice Côte d'Azur, and halfway between Cannes and Monte Carlo. This incredible Palace has recently been adorned with the modernity of the Third Millennium, in order to perpetuate its legend throughout the world.
Actors, politicians, writers, singers, artists and royalty, a number of whom have signed the Livre d'or , have enjoyed a holiday on the Riviera to live a little of the myth of Le Negresco. The myth is Jeanne Augier who is also the guardian. Hotel owner and CEO, this great lady – with strongly held beliefs – has devoted her life to preservingand enhancing this unique heritage. A visionary, she was able to meet the expectations of a demanding clientele in search of the exceptional.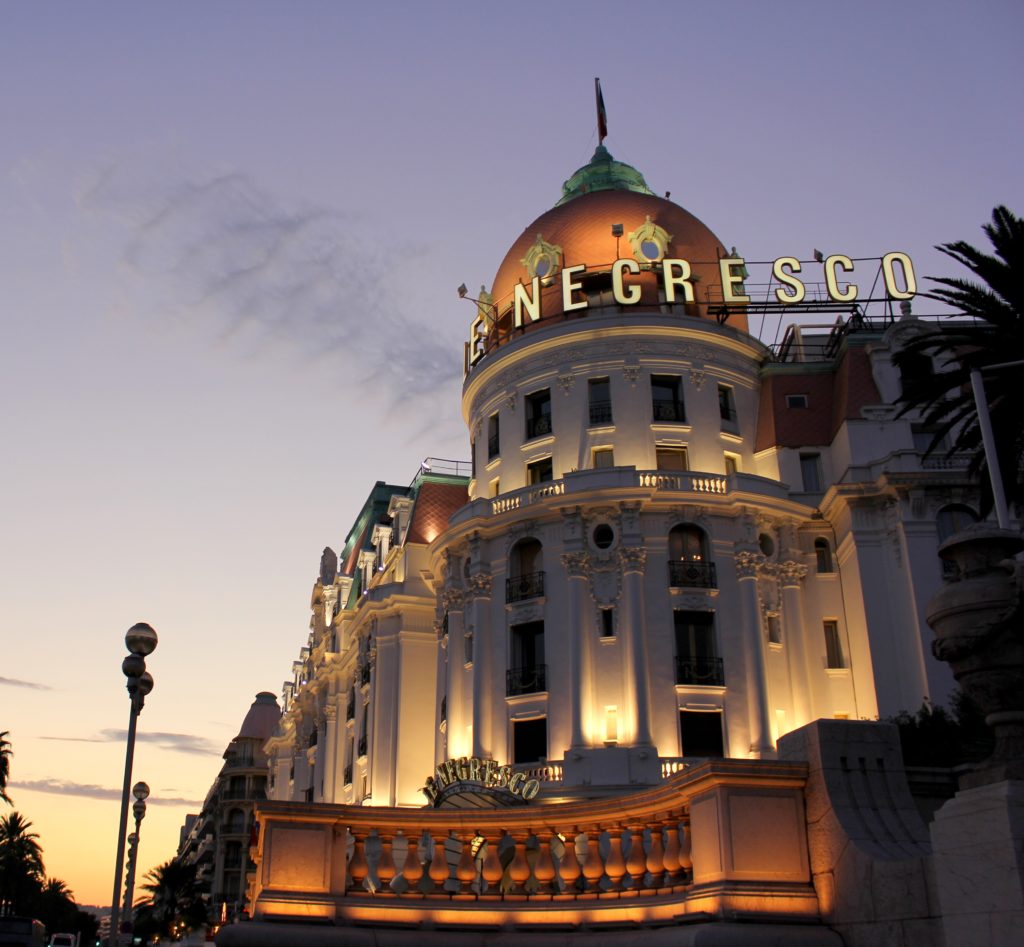 Hôtel Le Negresco
Membre de The Leading Member of the World
37, Promenade des Anglais,
06000 Nice France
TRANSPORTATION
BY PLANE
The city of Nice has the second largest airport in France; therefore it is very easy to arrive by plane from many destinations throughout the world (direct flights are available from most major European cities). The airport has two terminals: T1 and T2 and a free shuttle connects T1, T2, and all Car Parks every 10 minutes.
Transportation to/from the Nice Airport
Tram Line 2: Airport/Port Lympia – Departs from both terminals (T1 and T2)
Bus 98: Airport /Gambetta. – Departs from both terminals (T1 and T2)
Schedules and information from « Ligne d'Azur » traffic agencies. Phone: 08 1006 1006 Phone (from abroad): +33(0)4 97 25 89 36 Website: www.lignedazur.com
Taxi services: There is a taxi-stand outside each terminal: – Terminal 1: Door A1 – Terminal 2: Door A3
BY ROAD
Nice is connected to all the great European cities by a major motorway network.
Take the exit 50 "Promenade des Anglais".
BY RAIL
The national railway system provides rapid and express trains (TGV, corail) connecting the French Riviera with all parts of France and all major cities in Europe.
The TGV Méditerranée high-speed train links Paris & Nice in 5 h 30 min.
Visit the SNCF website www.sncf.com for more schedules and to book your travel.
From the Central Railway Station-Gare de Nice Ville
BY VELO BLEU
Vélo Bleu (or Blue bicycle) is an easy to use self-service bicycle rental system.
Find out more at www.velobleu.org
DISCOVER NICE