Registration fee*
The conference fee include participation, coffee breaks, the e-book of the conference, NICE Conference membership for the year 2020 (free renewal every year by tacit agreement).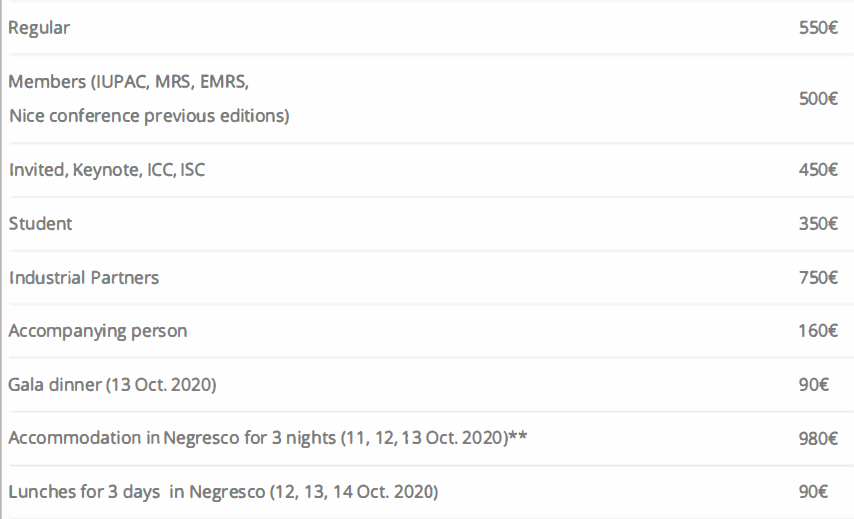 *prices increase June 1st. All online charges are made in « Euro » at the current exchange rate. Conference registration prices increase by 100€ after 1 June 2020 (student increase by 75 €) 
**limited to 100 bedrooms (first come, first served basis), limit for two persons same bedroom, limit 2 breakfasts included, in Negresco Hotel in Nice. Please note that Negresco Hotel can also provide the lunch for 90 euros/ person / 3 days
Payment online by credit card
To register and pay your Registration fee, please follow this link to our event page on Weezevent or select your fee below (payment processing fees included).
Billetterie Weezevent
During Registration on our Weezevent page you will have the choice between:
Payment by credit card (Visa, MasterCard)
or Reservation for those who prefer to pay by bank transfer or purchase order (see below for more details).
Bank transfer/purchase order
The conference fee can be paid by bank transfer and purchase order. Note that any additional bank fees must be paid by the participant.
All payments should state NICEconference2020 and the name of the participant in the explanation.
An invoice can be delivered on request at: nice2020.conference@gmail.com.
Cancellation policy: Refunds will be provided for request made before May 1st, 2020. Please note that we do not assume the bank transfer fee for the refund. After May 1st, 2020, refunds are not delivered.
Bank account details